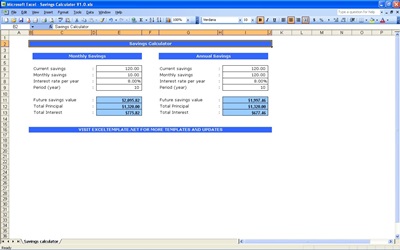 You want to start saving today for your future with the simple savings calculator. You can use the calculator for which ever reason you are saving for no matter if it is for retirement or simply saving for college. The simple savings calculator is one of the great ways that you can select a financial goal and can simply follow through on it by selecting which of the savings plans is right for you. Download this template free here.
The simple savings calculator will allow you to place the right information into the calculator for instance like the amount of money that you have already saved. Not only will you be able to do this, you will also be able to input all of your monthly savings along with the interest rate that you are saving money at.
Using a Simple Savings Calculator
Once you have entered the information into the proper columns or cells of the template,  the template will then break down the information to tell you just how much of the money is going to be principal and which one is interest. The easy, simple savings calculator is going to help you to reach your goals by allowing you to see where you need to make changes within your budget in order to maintain and reach your goal.
Some people find that saving some money can be quite difficult actually but with the right simple savings calculator, you will be able to reach your goal in less time by placing all the information into your savings calculator. If you desire to find out just how you can make sure which plan or which template is right for you, you will be able to compare the two or more budgets side by side.
In order to make better plans and to control your future better, you will want to download the savings calculator which will serve as a starting point to get you moving in the right direction.
Related Templates:
X
Your free template will download in
5 seconds
.
View this offer while you wait!