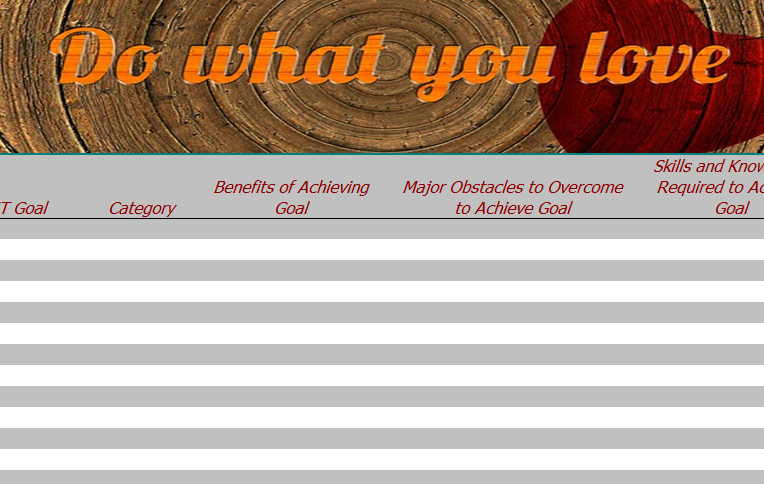 New Year's is a time when most people reflect on their achievement over the past year and make resolutions to improve their lives in some way or another. This template will give you the opportunity to monitor and manage these goals and help you achieve them by the end of the New Year! This tool also gives you a place to enter and attain your goals at your own pace. Simply list everything you want to accomplish during the year and the template will keep you motivated as a week becomes a month and the month turns into a year! Only you can better yourself, this Goal Planning Sheet just gives you the tools to make it easier.
New Year's Goal Planning Sheet Manual
To download the free file at the bottom of this page, simply click the link provided and it will automatically download to your computer.
The "Monthly Goal" column is where you will fill out your goals for the entire year. For each month, list one attainable goal and make sure you do everything in your power to accomplish that task. You would be surprised at the amount of things you can accomplish in just 30 days!
The "Category" column helps you separate and organize your goals by listing them in separate categories.
The next section will help you stay motivated; simply list how you benefit from achieving this goal. Then you have something to look forward to at the end of the month. In addition to this, you will enter the major obstacles stopping you from attaining this goal, in the next column.
The final sections allow you to list the skills and knowledge you need, people that can help, and finally a plan of action for achieving this goal.
When everything has been accomplished for that month, you can enter the date of completion in the very last column, titled "Completion Date".
Why You Should Use the New Year's Goal Planning Sheet
By using this Planning Sheet, you will gain valuable insight into your schedule and overall habits. This knowledge will help you plan your time wisely and organize all this information into one simple document. Following the guidelines you set will help you achieve all your goals and resolutions. Don't waste another minute; download this free Goal Planning template today!
Plan the path to achieving your goals this year by using the Goal Planning Sheet!
Download: New Year's Goal Planning Sheet
Related Templates:
X
Your free template will download in
5 seconds
.
View this offer while you wait!