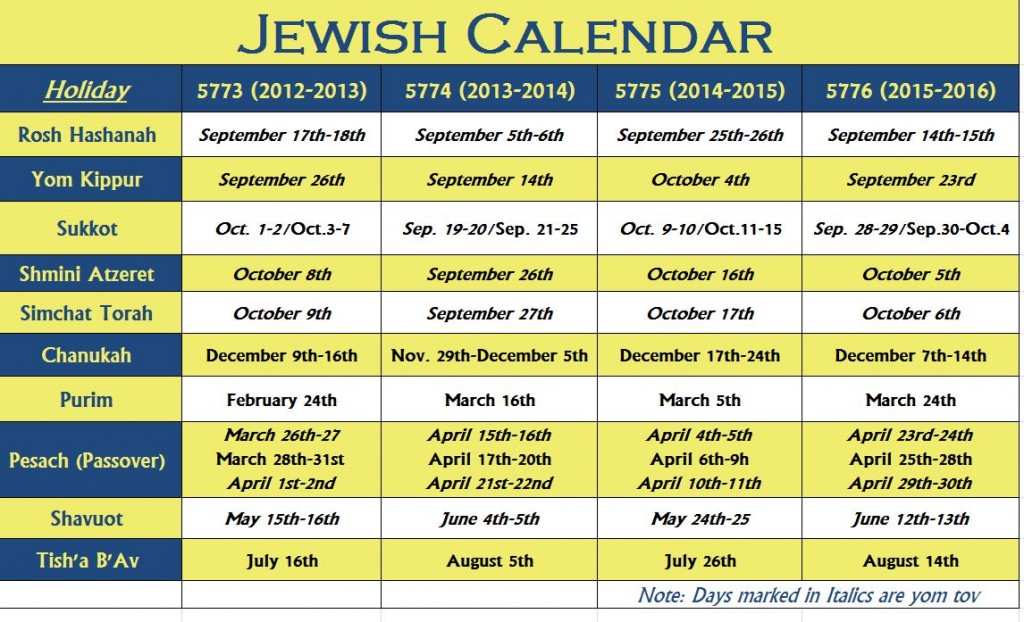 Keeping track of special days on the horizon is made easy with a Jewish holiday calendar. The Jewish calendar featured here displays the high holidays and pilgrimage festivals for the next four years. The easy to use and read calendar can also be customized to include minor holidays, modern holidays or public fasts. The complimentary Jewish holiday calendar can be downloaded instantly below.
About the Jewish Calendar
Jewish festivals and holidays are based on three main sources: commandments, rabbinical mandate and modern Israeli history. Each year begins with Rosh Hashanah, which is known as the Jewish New Year, the Day of Memorial and the Day of Judgment. Rosh Hashanah also marks the start of a 10-day period before Yom Kippur, which is the "Day of Atonement." Yom Kippur is the holiest day of the entire year for Jews.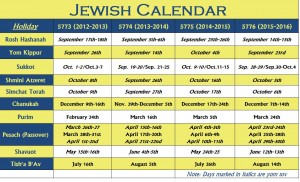 The calendar featured here displays both Hebrew years and Gregorian years. Beginning with the Hebrew year 5773, the calendar runs through 5776. In Gregorian dates, the calendar runs from 2012-2016. The dates marked in italics on the calendar are "Yom Tov," meaning traditional work on the marked dates is forbidden. The calendar template is also printable, meaning you can post it or hang it up anywhere to give you reminders of important future dates.
The following is a list of the major Jewish holidays that will take place during the Gregorian year 2013:
Tu B'Shevat – Saturday, January 26th
Purim (Festival of Lots) – Sunday, February 24th
Pesach (Passover) – Tuesday, March 26th
Shavuot (Festival of Weeks) – Sunday, May 5th
Tish'a B'Av (Fast Commemorating Destruction of Two Temples) – Sunday, July 16th
Rosh Hashanah (Jewish New Year) – Thursday, September 5th.
Yom Kippur (Day of Atonement) – Saturday, September 14th
Sukkot (Feast of Tabernacles) – Thursday, September 19th
Shmini Atzeret (Eighth Day of Assembly) – Thursday, September 26th
Simchat Torah (Day of Celebrating the Torah) – Friday, September 27th
Chanukah (Jewish festival of Rededication/Festival of Lights) – Begins Thursday, November 28th
There's no restriction on the amount of calendars you can download or print, so you're encouraged to pass them out to friends, family, loved ones and other members of your congregation.
Download: Jewish Calendar

Related Templates:
X
Your free template will download in
5 seconds
.
View this offer while you wait!