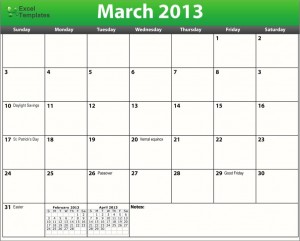 Having a calendar is a great way to stay organized. On the internet there are many calendars that can be downloaded a printer for free. A person should not have to pay for something that can be found and used on the internet. The calendars are often in PDF format which makes using and printing easy to do. Having a calendar in this format also allows for easy customization.
Printable PDF March 2013 Calendar
The calendar for March 2013 is available on the internet. A person can choose to use a blank calendar for this month or they can find one with a background. The March 2013 calendar has the holidays in this month listed. That way a person can adjust their schedule to the holiday celebration and plan accordingly. They can plan visits, days off of work or school, and plan accordingly for weekend events.
Benefits of Using the Calendar
One of the best things about using a printable PDF March 2013 Calendar is that it is free. The calendar can be printed off the internet without having to worry about paying a fee. The calendar can also be printed off by months. This will allow a person to stay organized and bring the calendar on an appointment with this. There are also many benefits to having this calendar in the PDF format.
A person can go on their computer and type in important events on the calendar. They can customize it with work appointments, birthdays, and other events that they do not want to forget.
The calendar can be saved on the computer and if another event comes up it can be easily updated. Staying organized can be a challenge and the use of a printable calendar makes it much easier to stay on top of all important events and happenings.
Download: printable-pdf-march-2013-calendar
Don't forget to download April's complimentary calendar for 2013, with the Printable PDF April 2013 Calendar.
Related Templates:
X
Your free template will download in
5 seconds
.
View this offer while you wait!