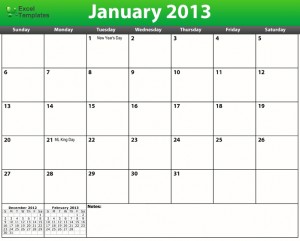 Having a calendar is one of the more useful and beneficial things for a person. With a calendar you will have a very easy way to keep better track of time. One way to best use the benefits of a calendar is to have one on Excel.
This is when you put together a calendar on the program. On this program you can record dates, events, days, weeks and months. By having this calendar you will have the means to more easily plan your days and events over time. The Excel calendar is one tool that will help anyone be more organized with keeping track of important dates.
2013 US Calendar: Days and Weeks
The first part of the calendar that you can record on an Excel template is days and weeks. This information will help people and businesses plan their daily activities more easily. When using this part of the template the user will simply put together a calendar template with days and weeks and then use it to keep track of time in a more organized manner.
They can also use this to type in certain data that may be important to them as well. Using the calendar template will give you the means to more easily track time over the course of the year.
2013 US Calendar: Dates and Events
Dates and events are also among the more beneficial parts of the Excel calendar template. With this part of the template you will have the means to track certain events and dates that may take place during the year. This includes holidays and also important meetings.
It will include social gatherings as well. When using this part of the template you will simply type in the holiday and/or event to keep track of it. You can also highlight this as well in order to get the most out of your data storage on a calendar template with Excel.
Download: printable-pdf-2013-us-calendar
Related Templates:
X
Your free template will download in
5 seconds
.
View this offer while you wait!