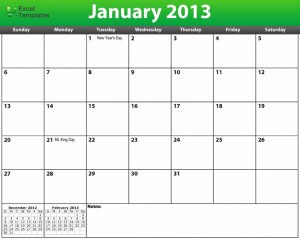 The greater flexibility made possible when using an electronic 2013 holiday calendar can offer many advantages. Using a ready-made template for your 2013 holiday calendar offers the easiest way to get organized, allowing you to make use of it right away.
Customizing your calendar can be done with just a few mouse clicks, allowing you to stay on top of any organizational concerns or needs that might develop.
Perfect for use in an office environment, allowing your entire staff or department access to the same calendar will ensure that everyone is on the same page when it comes to upcoming and important holidays.
By using an Excel spreadsheet, your holiday calendar 2013 will offer you fewer surprises and challenges when it comes to your efforts to stay organized. Easy access to your calendar offers you a simple and versatile way to make any changes you need, ensuring that you are always on top of the situation when it comes to staying organized.
The resources you need to promote greater and more effective organization are well worth making use of, providing you with a calendar option that will be able to meet all of your organizational needs.
With a holiday calendar 2013 will be a year that you can more easily plan for. Electronic spreadsheets have long been valued for their ability to make superior organization and access to the right information such an easy task.
Access to a pre-made template will offer you the simplest way to use this powerful organization tool, requiring you only to key in information that will be specific to you and your upcoming holidays in order to keep track of such concerns. The superior convenience and performance offered by the right spreadsheet template makes it an ideal resource for the 2013 holiday calendar you have been seeking.
Download: printable-pdf-2013-holiday-calendar
Related Templates:
X
Your free template will download in
5 seconds
.
View this offer while you wait!