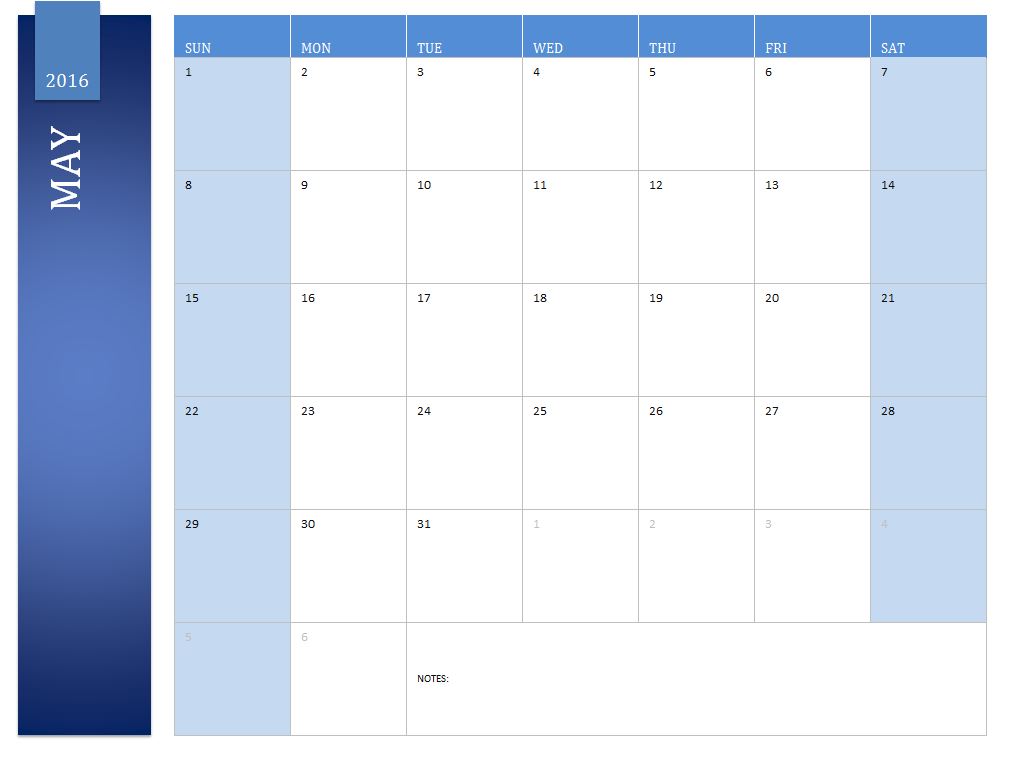 The best way to remember dates for appointments and special occasions is to write them down on a centrally located calendar. Using our free downloadable Excel template for the Excel May 2016 Calendar template gives users the freedom to add the notes they need, and in the manner that works best for their family or work group. Whether you need a calendar template for home, church, or business, this template will help you achieve maximum fun and productivity with minimum frustration from scheduling conflicts.
Using the Excel May 2016 Calendar Template
Our Excel template for the Excel May 2016 Calendar is a simple and free download that can be printed immediately after download or saved to a central Documents folder and shared out digitally as a paper-saving measure. After the month is over, the sheet can be scanned to a digital archive or placed in a three-ring binder to provide a living memory of everything that happened in May 2016. The blocks are easy to fill with notes and reminders about medical or professional appointments, family and social activities, work deadlines, or whatever important events you need to remember most.
Click the link to download our free Excel May 2016 Calendar template today, print it off immediately, and never miss another important date.
Special Dates on the May 2016 Calendar (USA)
In May 2016, the month begins on a Sunday and ends on a Tuesday.
There are five Sundays, but only four weekends in May 2016.
Mothers' Day is on Sunday, May 8.
Memorial Day (a Federal holiday for US residents) is on Monday, May 30.
The New Moon is on Friday, May 6.
The 1st Quarter Moon is on Friday, May 13.
The Full Moon is on Saturday, May 21.
The 3rd Quarter Moon is on Sunday, May 29.
Enjoy the year!
Download: Excel May 2016 Calendar Template

Related Templates: