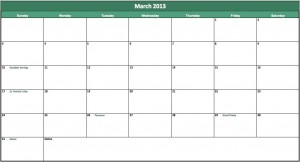 Have you had a hard time keeping the activities of your day straight? If you answered "yes" to this question, you may want to download March 2013 calendar from our site. If you decide to download the calendar, you will be able to organize all of your daily activities on the printout. There is plenty of space on the calendar to write multiple actives in the same small place. Get yours right here.
March 2013 Calendar: Free of Charge
Another reason that people decide to use the March 2013 calendar download is because it's free. There are plenty of calendars that cost a lot of money, but that is not the case when you download this calendar on our website. You won't get a fancy calendar when you download this calendar like you find in the stores, but this featured download will get the job done. As long as you have the calendar, you will be able to keep your actives organized on the calendar. Since the calendar is free of charge, you may want to print the calendar out for your friends and family members.
March 2013 Calendar: Sign of the Times
The last reason that you should download the March 2013 calendar is because it is the newest way to print out a calendar. Many people will swear by their computer or computerized device, so why not print your calendar off the computer? Our calendar download is a sign of the changing times.
You can still go to the store to buy a calendar, but it much easier to send the document to your printer from the privacy of your home. These are just some reasons that you should download the calendar for free. So what are you waiting for? Download the calendar or any of our other templates on our website today.
Download: march-2013-calendar
Begin prepping for next month's biggest events by downloading the April 2013 Calendar.
Related Templates:
X
Your free template will download in
5 seconds
.
View this offer while you wait!