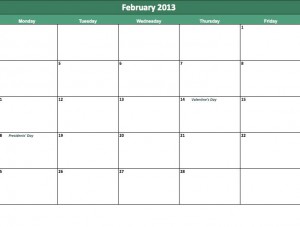 February is the second month of the year and is one of the more unique ones as well. When going through February there are only 28 days as opposed to 30 or 31. As a result there is less time in the month. Due to this fact it is important for you to more easily keep track of time.
By keeping track of time with a calendar you will have a very good source to use when looking to get the most out of the month. Using a February calendar for 2013 will give you the ability to better organize your days and also plan for any social events and holidays as well.
February 2013 Calendar: Better Organize Your Days
The first thing you can do with a February calendar is better organize your days. What this means is that you can keep better track of each day and each week. As a result you won't be as likely to forget important dates such as business functions and meetings. You will also have a way to plan your daily tasks at home such as cleaning and yard work. With this calendar you will be sure to run your days more smoothly during the month.
February 2013 Calendar: Plan for Social Events and Holidays
When using the February calendar for 2013 you will have a tool to allow you to plan for social events and holidays. With social events you can be sure to more easily prepare yourself for things such as parties, sporting events and also weddings. Another thing this calendar can do for you is plan for holidays as well.
The main holiday in February is Valentines Day. This is a day that can be very special so it is a good idea to use this calendar to plan for it more easily. Lastly there is President's Day which celebrates the birthdays of two of the bets presidents in the nation's history. So with a calendar for February you will have something you can rely on to keep better track of the dates during the month.
Download: february-2013-calendar-1
Related Templates:
X
Your free template will download in
5 seconds
.
View this offer while you wait!