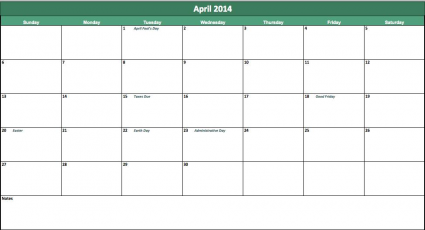 Looking for a calendar? It can be tough finding exactly what you want if you have strict specifications. This is why you should try a free calendar template online. Calendar templates allow you to make a calendar that is customized exactly for your needs.
For instance, if you wanted to print out an April 2014 calendar, you can do that with a calendar template. If you were to go to the store and just wanted to buy a single month calendar that far out into the future, I doubt you would be able to find anything.
Another reason to use calendar templates is that you can customize them to fit your needs. For example, April 2014 is pretty far away. If you know that it's going to be a busy month for you, then you could go through all the trouble of finding an April 2014 Calendar and handwriting all the important dates and times you need for that month on it. Or, you could use a calendar template and add all the dates in before you print the calendar off. This will way will save you a lot of time and money.
Most people think calendar templates are cheap and inexpensive. They are cheap and inexpensive and that is what makes them so unique. If you were to lose a typical calendar or planner that you bought at the store, all your dates and events would be gone forever. With a calendar template this doesn't happen.
A calendar template means that you can simply print out another calendar if you lose it. This also means that you can hand copies of your calendars to friends and family.
If you are looking for an April 2014 Calendar, consider using a free calendar template and see if it fits your needs.
Download: april-2014-calendar
Related Templates:
X
Your free template will download in
5 seconds
.
View this offer while you wait!