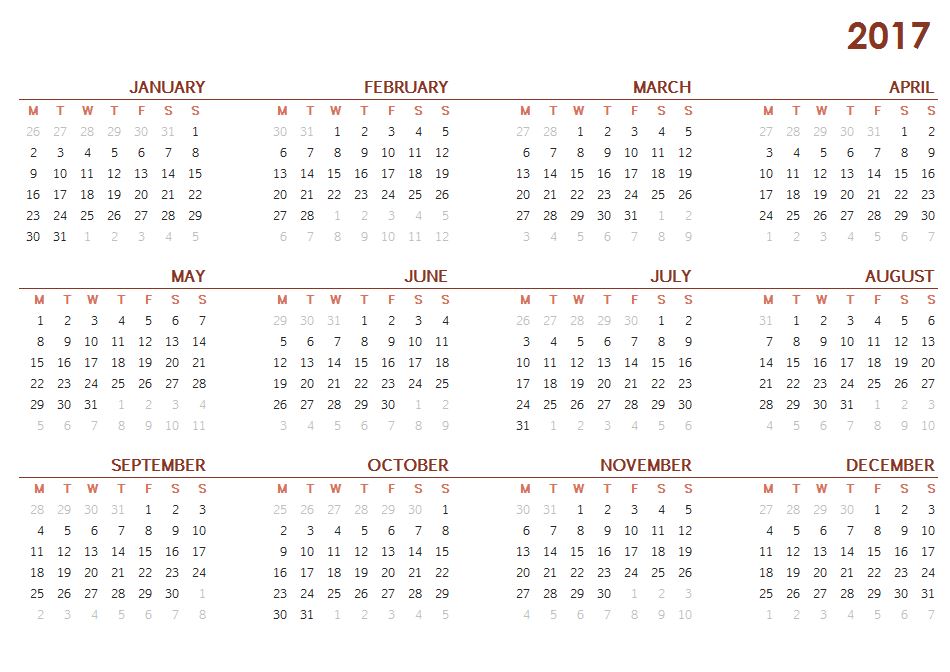 You can plan your year and get organized with the Excel 2017 Printable Calendar One Page sheet template. Get your free template for a 2017 Printable Calendar One Page sheet right here! Simply click the download link to get started today!
Using the Excel 2017 Printable Calendar One Page Sheet Template at Work
Work smarter and better with a full year of projects and deadlines at your fingertips! You need an easy, powerful, single page calendar template, with holidays and observed days in all months. Our free 2017 Printable Calendar One Page allows you to create and maintain your entire calendar year at a glance. Coordinate and schedule meetings, trips, federal holidays and personal milestones with our easy-to-use, professional, free template.
Our calendar provides you with a professional, high quality downloadable template. It allows for color-coordination, sharing across offices and departments, and has a handy reference guide for major holidays. You have the power to create the calendar, print it, share it, and adjust it as needed. Plan ahead and more easily with this easy-to-use, versatile guide.
Are you responsible for multiple projects and offices? See your entire year as you have planned it and work smarter for 2017 with the 2017 Printable Calendar One Page!
Personal Uses for the Excel 2017 Printable Calendar One Page Sheet Template
Do you have a busy year ahead of you? Do you need to coordinate vacation schedules, the school year, federal holidays and three day weekends? Are you the one who plans for your family's work, travel, personal time and big projects?
Try our elegant 2017 Printable Calendar One Page! Coordinating schedules and creating deadlines for big projects, like family vacations or house renovations, becomes a breeze when you download our free template and start organizing your year. You control the calendar, not the other way around! You can color-code projects or activities, and keep everyone up to date on planning for all months of the year. Share the calendar with friends and family via email for easy collaboration on holiday planning.
Simplify your busy work and home life by creating a full year calendar, and sharing it. Print it and hang it on your wall and never miss an appointment or wonder about a birthday again. Get control of your busy schedule with a printable 2017 calendar template!
Download: Excel 2017 Printable Calendar One Page Template
Related Templates:
X
Your free template will download in
5 seconds
.
View this offer while you wait!