The year 2013 is upon us and what could be better for your organizational needs than a 2013 calendar excel template? As the page has been turned on 2012, it's time to start turning new pages on a 2013 calendar. If you're in search of a 2013 calendar excel template, you've come to the right place, because you can get your very own for free right here!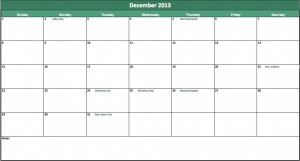 2013 Calendar Excel: Convenience
You are going to love the convenience associated with using a downloadable and printable 2013 calendar. If you are more of the tech-savvy type, you can easily type in and format all of your necessary information. You can then print off the calendar and post it wherever you need it most.
If you prefer the convenience that comes with printing off a blank paper sheet, you can handwrite each item of importance. Once printed, take the 2013 calendar and post it on your desk or bulletin board and never forget an important date, meeting or event ever again.
2013 Calendar Excel: Customization
The customization and personalization options are nearly limitless with the new 2013 calendar template. In addition to denotations for all the holidays of the year, you can make special notes for appointments, work schedules, birthdays, personal events and celebratory functions. You can mark these occasions however you want to, whenever you want to. You truly can design a 2013 calendar however you wish!
If you don't want or need an entire 12-month calendar clogging up your work space, simply select one month, one week or one day. Events in life change on a daily basis, so you are encouraged to download or print as many 2013 calendar sheets as you need. These downloadable and printable 2013 calendar excel templates are designed to meet your needs, whatever they may be.
Download: 2013-calendar-excel
Related Templates:
X
Your free template will download in
5 seconds
.
View this offer while you wait!