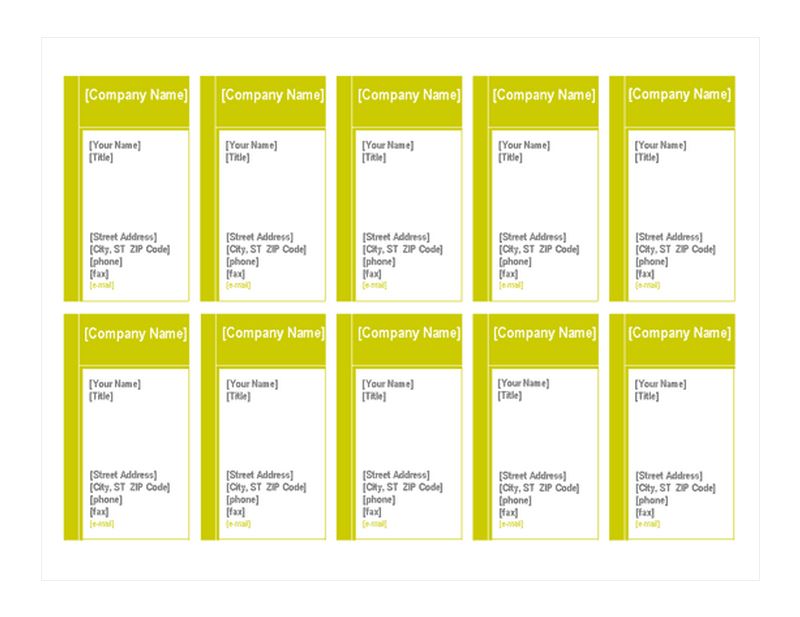 ExcelTemplates.net does not sell Avery® branded products. "Avery ®" and all other Avery-branded product names and SKU trademarks are trademarks of Avery Dennison Corporation. Avery Dennison does not sponsor or endorse any templates/content available on ExcelTemplates.net.
You can never underestimate the positive consequences of using any business card for your company. Vertical business cards work even better for you, since they are very precise and to the point, covering all the important information that you need to know right when you first glance at them. These vertical business cards are easy to customize, and are completely free to use. All you have to do is a few things, then you are set!
These vertical business cards come in a huge set, so that you can distribute them to any potential clients that you may come across that may want to know more about your business and work with you. If you do not use business cards, then it will be a lot harder to get people noticing your services or products. Every business card that you produce and make is an investment in your company or your business.
How to Use Vertical Business Cards
First, you have to put in your company's name at the top of the card.
Next, fill in your name and title where it says those words.
Third, you have to put in your street address, zip code, city, and state where it tells you to do so.
Fourth, you have to put in your phone number where it says the word "phone".
Fifth, you need to put in your fax number if you want to in the place where it says the word "fax."
Finally, you have to put in your email address in the very bottom of the card, unless you want to skip that and leave it out. Print the cards out so that you give them to potential clients!
Tips for Using Vertical Business Cards
Put in as much information as you can onto the card before you print it out. You want to give enough information on the card so that your potential client is easily able to reach you for business.
Download: Vertical Business Cards
Related Templates:
X
Your free template will download in
5 seconds
.
View this offer while you wait!