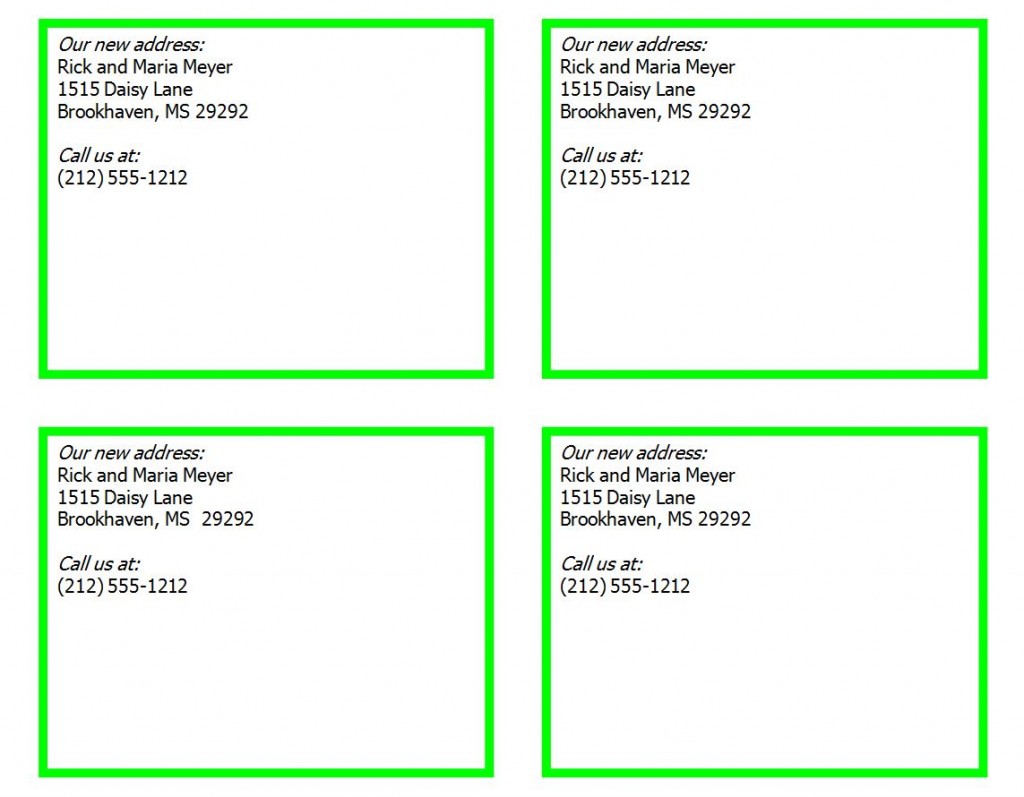 ExcelTemplates.net does not sell Avery® branded products. "Avery ®" and all other Avery-branded product names and SKU trademarks are trademarks of Avery Dennison Corporation. Avery Dennison does not sponsor or endorse any templates/content available on ExcelTemplates.net.
The document similar to the Avery 8387 Template is a simple and efficient way to notify everyone on a list of a change in address. It is useful for personal or business purposes. Once printed, the convenient form saves time and effort since it only needs a front-side address. It is customizable and user friendly. The size of the postcard is also helpful; one can use it like a file card, tape or pin it to a desktop area for easy reference, or keep it as a note until the new information goes into an electronic device. The receiver will have the new address information and a pleasant reminder. Notice of a new address is a courtesy to everyone on a personal or business list, and a sure sign that the sender wishes to stay in touch.
How to Use the Sheet Compatible with Avery 8387 Template
The address change template is downloadable, and it is free. To download the template, follow the download link. Once downloaded to a Word or Office document, the template is customizable. One can add names, addresses, telephone numbers, email addresses, or any information desired. One can use the document with a mail merge program for computer printing of the recipients' addresses on the front side. Once the information that one decides is in place, save. One can print as many copies as one might need using any of the Avery papers listed on the instructions.
Tips for Using the Sheet Compatible with Avery 8387 Template
One should consider limiting the personal information on the Avery 8387 Template style, document postcard to necessary items such as a new address or business phone number.
One can add a note to the recipients to put the new address in the computer or keep the card on file.
The card is customizable and can include a friendly message, like let's stay in touch.
One can either print the cards and use the Avery 8387 Template comparable, document with a blank front-face or go to the front-face link and print the front side.
Remember one must add the required amount of postage if mailing the cards.
Download: Compatible with Avery 8387 Template
Related Templates:
X
Your free template will download in
5 seconds
.
View this offer while you wait!